The 5-in-1 Hot Air Styler dryer comes with five interchangeable brush attachments that make straightening, curling, volumizing, and scalp massaging a breeze...(literally!) 
This revolutionary hair tool comes with a
 

round brush,

 
a 
flat brush, a dryer nozzle,

 
and
 2 suction curling barrels.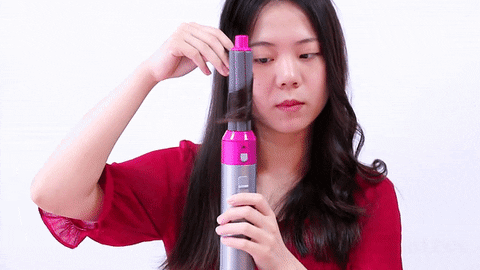 SO, WHAT'S THE HYPE?!
The 2 curling barrels are a game changer! Each barrel (one for the left side & one for the right) seamlessly sweeps up your hair around the barrel, using just hot hair, to create beautiful curls with minimal heat damage. 
Also known as
The Coanda Effect
, where teeny tiny air vents blow out hot air in one direction, forcing your hair to blow around the barrel...so you don't have to manually twist your hair around the barrel to make a curl...it does it all for you!
Combining blow drying with styling brushes, it can be used for different hair lengths and types.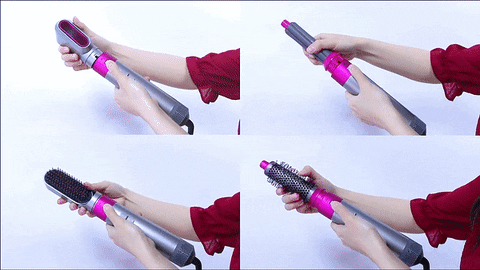 ONLY HOT AIR:
Negative Ion Hair Blow Dryer.
Our hot air hair styler uses advanced
negative ion technology
and
ceramic coating
to prevent frizz and static.
Thanks to the combination of
nylon pin
and
tufted bristles
, our hair dryer brush minimizes tangling and breakage along with helping provide comfortable scalp massages.
With only using
Hot Air,
heat damage to your own hair is drastically minimized. Perfect if you are looking to cut down the heat on your hair, and take a break from using hair irons and curling wands.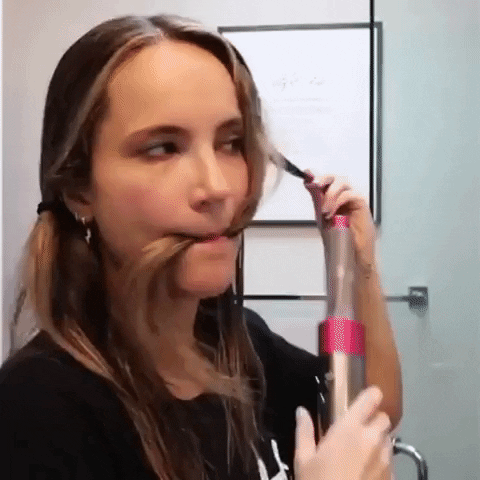 LIGHTWEIGHT & PORTABLE:
With adjustable heat settings. The hair dryer volumizer takes up 1000W/110v and offers 3 temperature controls to give you more control when styling hair. It's also perfect for use in different seasons for all hair types to help you easily get the hairstyle you've always wanted. Convenient and Portable.
This hot air brush is lightweight making it easy to tote around anywhere and easy to manoeuvre which is great for your wrists. Lets you create salon-worthy results without the price or the armache!








SUITABLE FOR ALL!
Use with Confidence.
This hot air styler is suitable for all hair types and lengths, and the perfect companion for trips, and vacations to give you the freedom to style your hair the way you want, just change the attachment to change up your look!


TRAVEL READY...
With the option of a travel bag (with a handy handle to carry) or faux leather case, you can keep all your attachments and styler safely packed and all together.



Available with the option of UK, US, EU, and AUS plugs, you can travel the world, and always know your hair will be styled wherever you may go!
TEMPERATURE SETTINGS:
0: Off

Level 1: Moderate temperature for gentle drying and styling (about 61-63℃)

Level 2: High temperature for fast drying and styling (about 96-98℃)

Level 3: The highest temperature for fast drying and styling (about 136-140℃)
Case and bristles are ALL vegan. 
1. Voltage: AC, 50/60Hz

2. 5 in 1 interchangeable hot air brush
3. 100V-110V with US plug, 220V-240V with EU / AU / UK Plug
4. This styler is 1000 Watts.